MSRA CHARTER MEMBERS: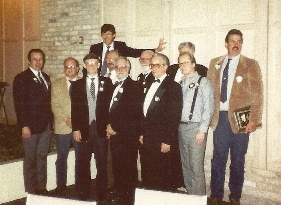 Gene Sonnen #3, John Wibbels #5, Fred Willner #6, Kerry Babler #7, Mike Mason #8, John Ellingson #11, Bill Casey #12.  In our memories and we imagine have started a car club and cruising the heavens are: Jerry Johnson #1, Pete Olson #2,  Ron White, #4, Bill Lyber #9, Bob Hall #10. (Thank you to Bill Casey for sharing this photo taken April 18, 1992)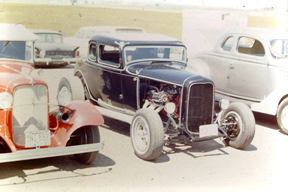 MSRA charter members #4 Ron Whites roadster, #11 John Ellingson's '32 coupe, and #12 Bill Casey's '36 Ford at the Midwest Rod Run IN in1969. All 3 members still have these cars after almost 50 years!!  (Photo from Gene Sonnen)

MSRA BACK TO THE 50'S

1974 – The first MSRA  "Back To The 50's" was held at Midway Center, St. Paul, Minnesota. Approximately 125 – 150 cars attended the 1st Back To The 50's.  It started at Midway Shopping Center and ended at Porkys Drive In .
A special "Thank You!" to Gene Sonnen #L-3 for permission to use his photos.

The Circle was MSRA's first logo in 1968.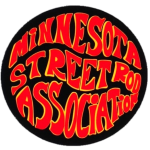 It was designed by Kenny Venberg of Mankato. At one of the first meetings of the new association at the Leaning Tower of Pizza, Kenny doodled his design on a napkin. The Circle was an immediate hit and became MSRA's logo. "It was suppose to be maroon and gold, but turned out more red and yellow, said Ken.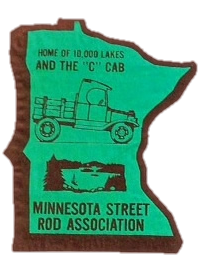 The Map of the State was decided on in 1971.It was a simple green and black design and promoted the fact that Minnesota was home of the C-Cab – the famous truck that was built by MSRA members and given away at the '71 Nationals in Memphis, This was the first logo to go on the windshield and on a tee-shirt. Jerry Johnson says he "thinks" he designed it, but not one person could remember who drew it. At this time the artist of the Map of the State logo remains a mystery.
(as of this date and putting the logo on the website – it still remains a mystery)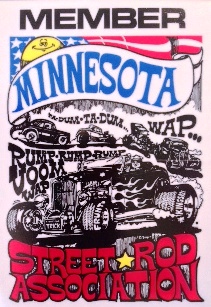 Good Times – The Cruise replaced the C-Cab logo in 1974 and was designed and drawn by Dave Bell, an early MSRA member. It depicts a cruise led by former MSRA member Bob Nelson in his '32 Highboy. The membership was polled to answer the question "If the Smithsonian was to put any car in the Automobile Hall of Fame, which one would it be?". The overwhelming response was the '32 Highboy. Bell contributed it to the club and called it "Good Times".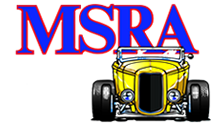 In 1980 the '32 Highboy replaced the Good Times logo with the front of the Hiboy and it remains the MSRA logo today. National street rod artist Thom Taylor designed this logo for Jerry Johnson, Taylor designed a poster for the NSRA Street Rod Nats in '79 and then did the car of the year artwork for MSRA. He proposed a couple of designs and the now familiar design won hands down.


Thank you to Tom Vollbrecht, Sr and Allen Lucas for the above shared history.  The Logo stickers were loaned for photography from Tom. Loaned by Al, which included the text about the Logos, was his copy of the 25th Anniversary 1967-1992 history booklet. This booklet included contributions from many members and was compiled by Sandy and Jerry Felde.

Copyright © 2016 Minnesota Street Rod Association