MEET THE NEW LINECHASER EDITOR!
Hello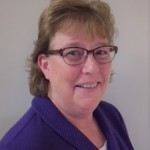 everyone !  My name is Cheryl Loegering and I am the new editor of the LineChaser. I assumed the editor position effective with the January 2018 LineChaser.  Some of you may recognize my name from the For Sale and Wanted ads. I have been coordinating the monthly classified ads since early 2016. I will continue, for now, handling both roles for the monthly LineChaser.
I was asked to share a bit about me personally. My husband Ron and I have been married for over 39 years. We do not have any children but do have nieces and nephews that we tend to spoil a bit. After working for 3M Company for over 36 years, I retired in the spring of 2015. My hobbies include gardening, attending car shows and vacationing in Florida. Oh, and now I guess, performing my roles for the LineChaser.
Our classic car collection includes a 1955 Chevrolet BelAir 2dr Sedan, yellow and black, named Rumble B and a currently under restoration 1955 Chevrolet Nomad, name yet to be determined !!
I welcome all members to submit articles and pictures for publication in the LineChaser. Remember, this is a publication driven by the members. Without your submissions we have nothing to publish.
Feel free to contact me at any time  via email at editor@linechaser.org

---
The MSRA LINECHASER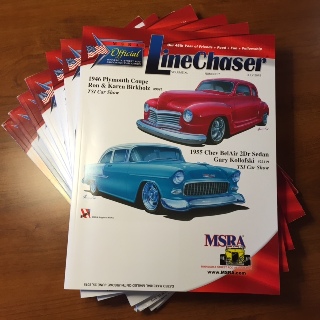 MSRA's award winning, 100+ page monthly magazine, the LineChaser is filled with information to keep you informed as a member. Under the direction of its volunteer editor, Cheryl Loegering, and the volunteer team of contributors and photographers, each issue contains photos of events and car shows, articles of interest, committee reports, calendar of upcoming events, and of course classified ads – the first thing car guys read.  Note: The Linechaser is not available in an electronic version.

SCHEDULE OF EVENTS : Do you have a car show, a cruise night, a swap meet or event you would like included in the LineChaser?   Complete the form below and return by email or USPS. Deadline is 6:00pm on the 10th of the month preceding the month of the event.

The form below is a PDF which has the option where it may be filled-in online. The instructions are at the top of the form when you open it. Once download is complete, click on PDF to open the form to fill it in.

Click here to view or download the Schedule Event Form

CLASSIFIED ADS!  If you want to place a For Sale or Wanted advertisement ….
The form below is a PDF which has the option where it may be filled in online. The instructions are at the top of the form when you open it. Once download is complete, click on PDF to open the form to fill it in.

Click here to download or view the MONTHLY WANT AD and WANTED REQUEST FORM

Questions or comments?  Email Cheryl Loegering at editor@linechaser.org

Copyright © 2016 Minnesota Street Rod Association