MSRA Legislative Committee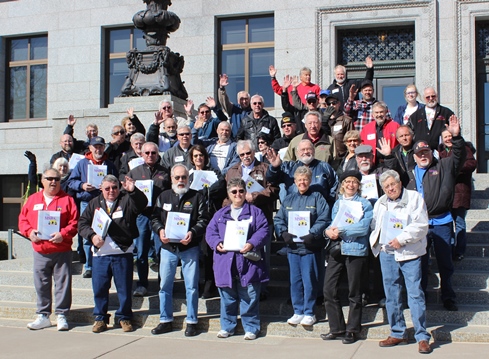 Chairperson's Mike Gressman, Tom Fritz, and the dedicated Legislative team of volunteers do an incredible job of working with our lawmakers, keeping MSRA members informed, and promoting our hobby of street rodding. A special shout out and thank you to Ron Steave who has retired after several years as one of the Co-Chairperson's. We are happy to have Ron continuing to serve on the committee.
The committee's annual "Run To The Hill" was held on April 18, 2017.
MSRA members:  Watch for a summary in your LineChaser.

The committee reports and  articles in the LineChaser keeps all the MSRA members informed.

The  Non-0xygenated (ethanol-free) Fuel list
of station locations in MN and WI is a must have.
Click here for a current list.
For a listing of Ethanol-free gas stations in the U.S. and Canada click here Pure-Gas
The MN License Plate Statute, and the MN Blue Light Statute is a piece of legislation you may want to print off and keep in your glove box.
Click here for a copy of 2016 MN License Plates Statute 169.79
Click here for a copy of 2016 MN Blue Light Law 169.64
MSRA Legislative Committee contact: Thomas Fritz, 763-241-1252
Committee Members:
Dave Breault, Mike Burress, Bill Casey, Dave Eichers, Sandy Felde, Jim Fritz, Thomas Fritz, Mike Gressman, Dave Lindorff, Doug McKinnon, Martin Moody, Stan Pream, Robert Reining, Fred Romo, Dale Sohlstrom, Ron Steave, Bill Strusinski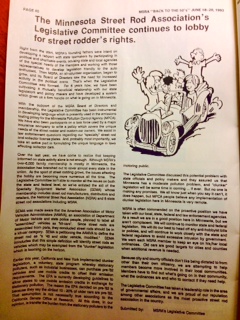 "The Minnesota Street Rod Association's Legislative Committee continues to lobby for street rodder's rights"
The first paragraph begins … "Right from the start, MSRA's founding fathers were intent on developing a rapport with state lawmakers …"
The last paragraph reads …  "The Legislative Committee has taken a leadership role in the area of governmental affairs, and we are proud of our reputation among other associations as the most proactive street rod association in the country."
True then — true now, 22 years later!  This article was in the 20th Annual BTT50s Visitor Guide! June 19-20, 1993!

Copyright © 2016 Minnesota Street Rod Association