MSRA Scholarship Foundation
                                       MSRA SCHOLARSHIP FOUNDATION MISSION STATEMENT
It is the mission of the Minnesota Street Rod Association Scholarship Foundation to assist men and women who are members of the MSRA or their dependents under the age of 21 to receive post-secondary education.  The Minnesota Street Rod Association Scholarship Foundation's goal is to help meet the financial needs of students who are pursuing educational opportunities at technical institutions and accredited colleges and universities.  The Minnesota Street Rod Association Scholarship Foundation is committed to the goal of increasing financial resources so as to respond to as many eligible requests for scholarship assistance as afforded.
---
MEET THE MSRA SCHOLARSHIP FOUNDATION, PRESIDENT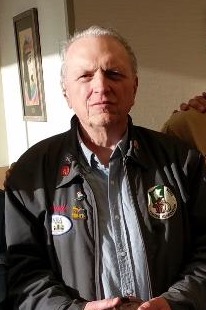 My Name is Denny Sanders and I am the new President of the MSRA Scholarship Foundation. My MSRA membership number is 5903, so I have been around for a while. I am starting my second year on the Scholarship board and my first year as President.
I thought the one way for me to give back to the Street Rodding hobby which has been a part of my life since a teenager growing up in Grand Forks, North Dakota was to help with something I truly believe in, "A Higher Education." And by our, (I say our because it takes people like you to make it all happen, with you monetary and Silent Auction contributions,) working together as a community we call MSRA to help the children of our hobby reach their goals of a better education and the possibility of finding their dream jobs; something we all wish for our children.
My hope, with the help of the Scholarship Board members and people like yourselves is to have the ability to give scholarships to all those who successfully meet the requirements of an MSRA scholarship application.  I hope you will consider supporting the MSRA Scholarship Foundation.
Denny Sanders #5903
MSRA Scholarship President
msrasfdenny@gmail.com
---
COME BID AND SHOP AT THE SCHOLARSHIP SILENT AUCTION!
The MSRA Scholarship Foundation will again this year have our Silent Auction at Back to the 50's.  Our tent location will be the same as last year, on Randall Ave, west of Underwood.  We will have many interesting items for auction on both Friday and Saturday.  The hours for the auction and sale will be from 9 AM to 4 PM each day.  The bidding will end at 4 PM each day and you must pick up and pay for your item(s) by 5 PM the day of the action.  Only cash or checks will be accepted. We neither offer nor accept online bidding.
---
Friends+FOOD+Fun+Fellowship! 2017 is MSRA 50th Anniversary as an Association!
The Scholarship Foundation's new CRUSIN' IN THE KITCHEN WITH MSRA is now available! Between it's covers are over 300 recipes which are tempting, tasty, and also include many special family recipes that have been shared by our members. This is a "must have" addition your cookbook library! The new cookbook is selling for $10.00 a copy and will be available for purchase at all Membership Meetings, and at the Scholarship tent at Back to the 50's. Thank you to all who submitted your recipes.  You are the ones that made this possible.
---
DONATIONS! If you, or someone you know, has an item or items that they would like to donate there is a list of Scholarship Foundation board members at the end of the Scholarship Update in each issue of the LineChaser.  Please contact the Scholarship Foundation board member who lives closest to you.
If you are making a monetary donation, it may be mailed to the Scholarship Foundation at;  MSRA Scholarship Foundation,  P O Box 13577,  Roseville, MN  55113.  Thank you for your donation!
---
Do you shop at Amazon.com? Are you supporting a favorite charity through the AmazonSmile program? Amazon donates 0.5% of your purchases to the charity you select.We invite you to please consider the Scholarship Foundation for your AmazonSmile donation. You will find it listed as MSRA Scholarship Foundation. Once you select a charity the percentage of your purchase is automatically donated. You can also change your support to a different charity at any time.Thank you for your consideration of the MSRA Scholarship Foundation!

---
Limited Edition MSRA Art Prints by Eric Aurand !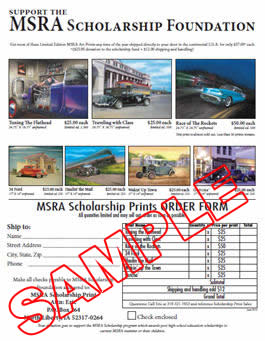 A perfect gift idea for someone who is a classic car enthusiast!
These Limited Edition MSRA Art Prints by Eric are Aurand available now from Scholarship Foundation committee and through ordering direct. All proceeds go to the Scholarship Foundation which awards post high-school education scholarships to current MSRA members or their children.
View or download the Art Prints Order Form by clicking here!

Copyright © 2016 Minnesota Street Rod Association