May 20-22, 2016 SPRING CAMPOUT
A welcome sign greeted our campers on Friday as they arrived for this year's Spring Campout at Eagle Cliff campgrounds! A fun day as some members took tours, greeted old friends, made new friends, and ate brats and chicken cooked by our own Roger Mellman and his team! Saturday night's entertainment included "Crankshaft", plus a vintage /pin-up contest Friends+Fun+Food+Fellowship! Thank you to the committee of Joe Karpowicz, Loran Mogensen, and Brent Alpert for their work in putting this together – and, of course, providing the gorgeous weather!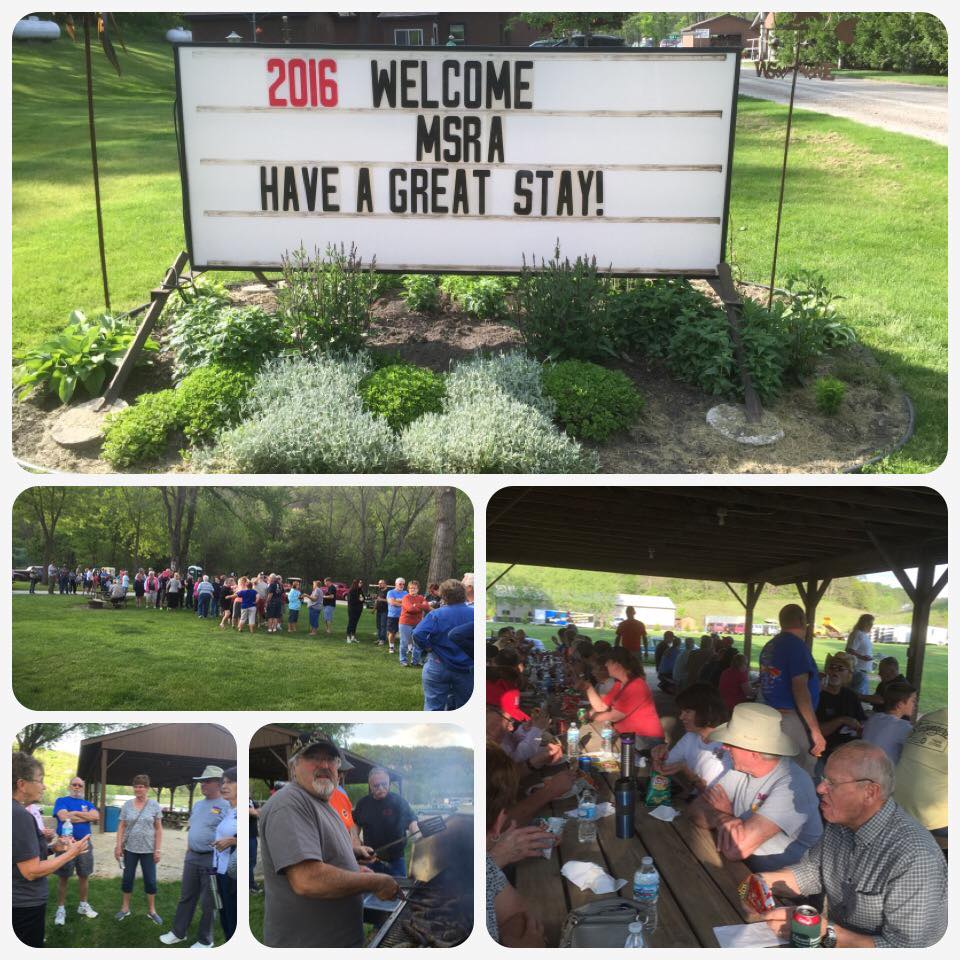 ---
May 29, 2016 – SPRING PICNIC
From Travis Fowler: "Thank you to everyone that came out to the Spring Picnic!!! Around 1,400 served in just around an hour, beautiful weather and nobody left hungry. Can't wait for next year's already!"
Thank you to Travis, Loran Mogensen, and their committee for another fabulous Spring Picnic! The MSRA Safety Team was also available to inspect our members vehicles, and the Minnesota Street Rod Association First Aid Team was there in case of an emergency. Both of these volunteer teams, in their special way, help "keep us safe".
Friends+Food+Fun+Fellowship. Great Job everyone!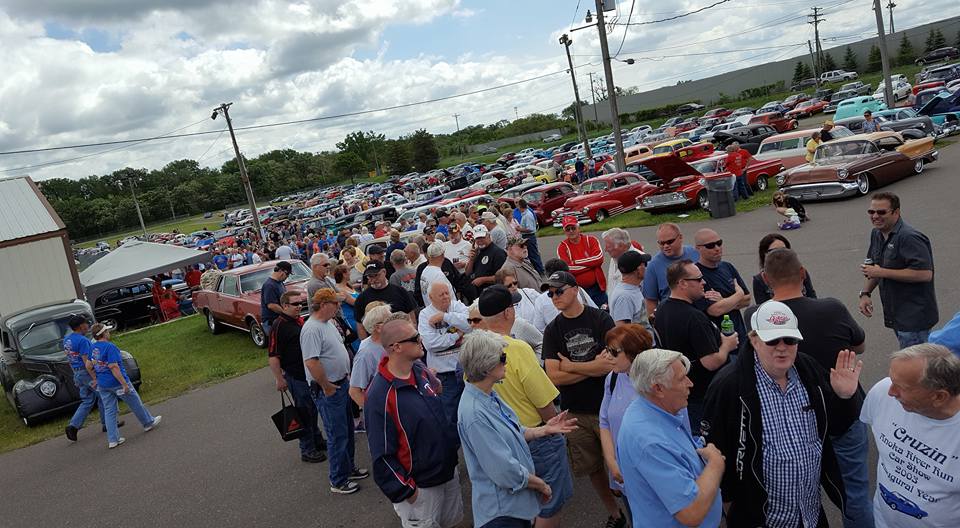 July 16, 2016 – MSRA SUMMER PICNIC – Two Harbors, MN.
Thank you to the North Shore Classics Car Club for hostng.
---
SSFR – AUG 26 – 28 
They're racing at SSFR! It's a beautiful day for the MSRA member event at BIR!
What a fabulous time at Brainerd International Raceway (BIR) that was shared by the MSRA members attending this year! Some members camped, some stayed at a local hotels, others drove up for just one day and all agreed … SSFR is all about Friends+Food+Fun+Fellowship! Friends+Food+Fun+Fellowship!  Thank you to Tom Vollbrecht, Jr., Dave Lemke, Joe Karpowicz, Ted Jacobson and their entire committee of volunteers for this always anticipated and favorite weekend for MSRA members!
---
MSRA FALL CAMPOUT was held on Sept 9 – 11th!
Thank you to the Northern Tin Street Rod Association for hosting this event! The weather was beautiful, with all the activities there was so much to do and see, and the food was fabulous! From camping on the grounds, to those who prefer camping with room service, to the members who drove up for just a day, it was a weekend all about Friends+Food+Fun+Fellowship! This was also a voting event and the nominees are listed in the Announcements page of the website. Thank you to Dale Sohlstrom, Dave Lemke, Ken Ingram, Wally Burchill, BlaineGartner, and their entire team of volunteers for a job well done!
---
9/23/16 – FRIDAY NIGHT PICNIC
A gray, cool, and sometimes rainy day did not keep the MSRA members from attending this year's Friday Night Picnic. Great turn-out, fabulous food that was grilled by our own MSRA cooks, side dishes and desserts! Add to that great recipe, Friends+Fun+Fellowship and it was a fabulous time for all who came out for one of our most popular events! Thank you to all the members who attended, and a special thank you to Wally Burchill, Dave Lemke, Loran Mogensen, Ken Ingram, our "grill masters", and all the volunteers who set up – served food – and helped tear down! You are the best! (photos courtesy of Wally Burchill)
---
9/25/16 – FALL FOLIAGE PICNIC – Little Log House Village, Hastings, MN.
WOW!! What a great turnout on a rainy-sunny-cloudy-sunny-cool day for the MSRA Fall Foliage picnic! Many of the COY nominees were parked by Porky's for all to view, the gardens were beautiful, the food was fabulous, and it was truly a MSRA Friends+Food+Fun+Fellowship

I do not have the final total to share with you yet! Thank you to Tom Vollbrecht Sr., Tom Vollbrecht, Jr., Ted Jacobson, Wally Burchill and their entire committee for another fabulous event! A special thank you to those members who shared a few of your photo memories for the slide show! More photos may be found on the MSRA website.
---
10/09/16 – 2016 Back To The 50's Volunteers Recognition Brunch Wrap up
by Renee Kaulfuss #2492
MSRA held its annual Volunteer Recognition Brunch on October 9th.  There were close to 1000 people in attendance.  Members of the Dixie Land Band provided entertainment and we celebrated lots of birthdays and anniversaries. The food was fantastic and having reserved tables was a positive change. Thank you to all the volunteers for their continued support of their association.  We look forward to your volunteerism again in 2017 as MSRA celebrates 50 years as the Minnesota Street Rod Association.
---
10/22/16  HALLOWEEN PARTY
The annual Halloween Party was a huge success with grandparents, parents, children of all ages, exceptional costumes, great food, music, and prizes! Thank you to the members and their families who attended, and a "great job!" shout out to Renee Kaulfuss, Loran Mogensen, and their volunteer team for hosting this year's Halloween bash!

Copyright © 2016 Minnesota Street Rod Association