FEATURED EVENTS!

9/9/17– MSRA FALL CAMPOUT and VOTING EVENT
From Dale Sohlstrom: The 2017 Fall Campout is now history, and with it comes the end of our 2 year run in Brainerd. The Northern Tin did an outstanding job organizing this event the last 2 years, and that was evident by the great turnout of MSRA members with their hot rods and campers. The Brainerd crew kept us busy all weekend long, and in order to be able to be this busy we needed food, and that was taken care of in style as well. Friday night's burger and brat feed was great, and the catered meal on Saturday night was tough to beat. If you were bored at the campout, I feel badly for you. There were so many things to do that we couldn't get all of it in in two days! There were enough activities to keep you busy for 4 days. My heartfelt thanks go out to Merle and Mickey Gallant, and all the rest of the good folks in the Northern Tin. You guys all did a fantastic job!!!!!

This was a Voting Event for nominations for Car of the Year and Custom of the Year. There was a very strong turnout for voting, and in the end, three vehicles were nominated for Street Rod of the Year (there was a tie), and 1 for the Custom nomination.
Street Rod of the Year nominees:
#L280 – Tom and Judy Vollbrecht Sr., 1934 Pontiac 2 Door Cabriolet with Rumble Seat
#1249 – Michael and Ginger Wahl, 1937 Ford Coupe
#2310 – Ken Ingram, 1937 Buick 4Dr Sedan and custom matching Trailer
Custom of the Year nominee:
#25046 Ben and Molly Boyum, 1957 Chevrolet Pickup
Congratulations….and thanks for participating in the Fall Campout!
From all of us in MSRA – Thank you to board members Dale Sohlstrom, Wally Burchill, and Dave Lemke; and, to Merle and Mickey Gallant and the members of the Northern Tin for a great weekend!
SSFR – Aug 25 – 27th! Brainerd International Raceway.
They're racing at SSFR! What a fabulous time at Brainerd International Raceway (BIR) that was shared by the MSRA members attending this year! Neither sun, nor rain, nor sleet, nor snow … wait, there was no snow … can stop MSRA members. It was a mixed weather of racing days for this year's event at BIR!  Friday – tech inspections, Saturday – rained out, Sunday, racing! Some members camped, some stayed at a local hotels, others drove up for just one day and all agreed … SSFR is all about Friends+Food+Fun+Fellowship … and campfires, and Racing!
Thank you to Tom Vollbrecht, Jr., Dave Lemke, Joe Karpowicz, Ted Jacobson and their entire committee of volunteers for this always anticipated and favorite weekend for MSRA members!
Thank you to Tom Vollbrecht, Sr., Shelly Malarky, Jeremy Sathre, Bryan Magner, and Joe Karpowicz for sharing their photos!
---

CURRENT SCHEDULE OF EVENTS
Link to the most current Schedule of Events

2017 MSRA VOTING EVENTS – Details for each Voting event in your current LineChaser. The 2017 nominees from each event will be listed under Announcements on the website.
5/6/17   – Sedan Delivery Mystery Run. East Bethel, MN
5/20/17 – MSRA Spring Campout. Lanesboro, MN
5/27/16 – TSI Car Show. Brooklyn Park, MN, hosted by GSTA
7/29/17 – Weekend Of Wheels Car Show. Grand Rapids, MN.
7/30/17 – Scavengers Car Show. Moundsview, MN
9/9/17   – MSRA Fall Campout, Brainerd, MN
---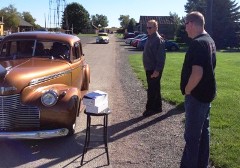 2017 MSRA MEMBER ONLY EVENTS.  Friends+Food+Fun+Fellowship  is the motto of MSRA.  You are invited to several  Member Only events during the year. See your LineChaser for information on each event.
January:  The Winter Awards Banquet.
April: Legislative Committee's Run To The Hill.
May two events: The Spring Campout, and The Spring Picnic.
August: SSFR at Brainerd International Raceway.
September three events: The Fall Campout, The Friday Night Picnic, and the Fall Foliage Picnic.
October: The Halloween Party.
---
MSRA participated in the GSTA 61st Rod and Custom Spectacular  –
MN State Fairgrounds – April 8 – 9
click here to view SLIDE SHOW of MSRA display

MSRA participated in the Prime Steel car show – Grand Forks – April 8 – 9
click here to view SLIDE SHOW of MSRA display

MSRA participated in the Toppers show, Fargo, ND, April 1 – 2nd
click here to view SLIDE SHOW of MSRA display

MSRA participated in the Motorhead Madness, Duluth, on March 24th – 25th
click here to view SLIDE SHOW of MSRA display

MSRA participated in the World of Wheels on March 17th – 19th
click here to view SLIDE SHOW of MSRA display


Copyright © 2016 Minnesota Street Rod Association