FEATURED EVENTS!

AUGUST: SSFR at Brainerd International Raceway. See your LineChaser for details!
JULY VOTING EVENTS:
Nominees from the Voting Events are listed on the Announcement Page

---

CURRENT SCHEDULE OF EVENTS
Link to the most current Schedule of Events

2017 MSRA VOTING EVENTS – Details for each Voting event in your current LineChaser. The 2017 nominees from each event will be listed under Announcements on the website.
5/6/17   – Sedan Delivery Mystery Run. East Bethel, MN
5/20/17 – MSRA Spring Campout. Lanesboro, MN
5/27/16 – TSI Car Show. Brooklyn Park, MN, hosted by GSTA
7/29/17 – Weekend Of Wheels Car Show. Grand Rapids, MN.
7/30/17 – Scavengers Car Show. Moundsview, MN
9/9/17   – MSRA Fall Campout, Brainerd, MN
---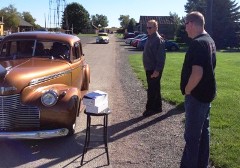 2017 MSRA MEMBER ONLY EVENTS.  Friends+Food+Fun+Fellowship  is the motto of MSRA.  You are invited to several  Member Only events during the year. See your LineChaser for information on each event.
January:  The Winter Awards Banquet.
April: Legislative Committee's Run To The Hill.
May two events: The Spring Campout, and The Spring Picnic.
August: SSFR at Brainerd International Raceway.
September three events: The Fall Campout, The Friday Night Picnic, and the Fall Foliage Picnic.
October: The Halloween Party.
---
2017 MSRA "BACK TO THE 50's"
Slide show containing just a few of the hundreds of photos shared by our members will be available for viewing  by August 8th.


MSRA participated in the GSTA 61st Rod and Custom Spectacular  –
MN State Fairgrounds – April 8 – 9
click here to view SLIDE SHOW of MSRA display

MSRA participated in the Prime Steel car show – Grand Forks – April 8 – 9
click here to view SLIDE SHOW of MSRA display

MSRA participated in the Toppers show, Fargo, ND, April 1 – 2nd
click here to view SLIDE SHOW of MSRA display

MSRA participated in the Motorhead Madness, Duluth, on March 24th – 25th
click here to view SLIDE SHOW of MSRA display

Copyright © 2016 Minnesota Street Rod Association